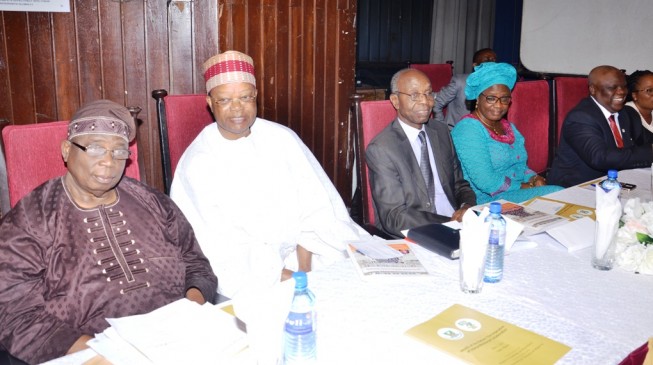 Julius Adelusi-Adeluyi, president of the Nigeria Academy of Pharmacy and a former minister of health, says the nation's health sector is home to some of the brightest minds.
Speaking at a symposium organised by the Pharmaceutical Society of Nigeria, Adelusi-Adeluyi said the efficiency and effectiveness of public health delivery had suffered a steady decline partly because of the unhealthy rivalry among various professionals.
He appealed to stakeholders in the sector to check the trend.
"From a historical standpoint, this situation didn't start today," Adelusi-Adeluyi said.
The symposium was chaired by Vincent Maduka, former president, Nigeria Academy of Engineering.
Eyitayo Lambo, former minister of health, delivered the keynote presentation at the event.
Lambo said Nigeria's health system, which ranked 187 among 191 countries by WHO in 2000, has had to face sundry challenges over the years.
"For instance, the constitution makes very scant provision for health while there is hardly any legislation that defines the roles and responsibilities of the three tiers of government concerning healthcare, while the National Health Act 2014 has not resolved the problem either," Lambo said.
"In addition, constant changes in the leadership of the federal ministry of health have led to regular policy reversals.
"This is the time to break down the silos that create barriers to patient-centered care, contribute to inefficient and ineffective care delivery, and compromise the safety, quality and outcomes of health care.
"Clinical care has become more complex and specialised; with increased specialisation, no one health provider can meet all the complex needs of a patient and his/her family.
"Also, governments should support the culture required for collaboration by making inter-professional collaboration a priority and evaluating its impact; and provide health care organisations with the fiscal resources required to develop, implement and evaluate inter-professional collaboration (care)."
Ahmed Yakasai, president, Pharmaceutical Society of Nigeria, reiterated the fact that healthcare professionals needed to work together to ensure patients get the best quality care and treatment that can be provided.
"Research has shown that inter-professional collaboration improves the quality of care and patient satisfaction leading to a better work environment overall," Yakasai said.
"This would require a systemic change in practice, effective and open communication, professional trust, and a system of coordinated care that allows patients to be part of the decision-making in relation to their care.
"Adopting this team-based culture of mutual respect and understanding is possible and very necessary as we all have a moral obligation towards the welfare of the patient. I believe that together we are better and stronger."
Copyright 2018 TheCable. Permission to use quotations from this article is granted subject to appropriate credit being given to www.thecable.ng as the source.