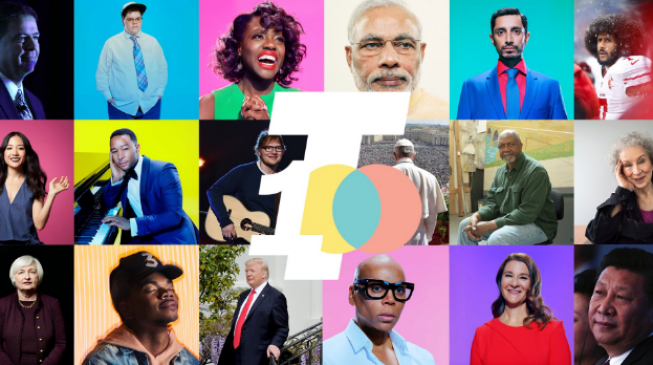 TIME magazine on Thursday unveiled its 100 most influential people of 2017 and the list did not include any Nigerian.
The 2017 list is TIME's 14th annual issue of most influential people around the world.
The last time a Nigerian was featured on the list was in 2015 when President Muhammad Buhari, Oby Ezekwesili, a former minister of education, and author Chimamanda Ngozi-Adichie were recognised among the 100 influential people of that year.
The 2017 list include musicians, global leaders, movie stars, athletes and chief executives.
Some of the notable personalities who made the list are US President Donald Trump, Melinda Gates, a philanthropist and wife of Bill Gates; Recep Tayyip Erdogan, president of Turkey and Pope Francis among others.
Ivanka Trump and her husband, Jared Kushner, both advisers to the US president, also made the list.
Every individual who made the list had another notable person write a profile on them.
FULL LIST
Biram Dah Abeid, Mauritanian politician, activist
David Adjaye, architect
Riz Ahmed, actor
Thelma Aldana, Attorney General of Guatemala
James Allison, immunologist
Guillem Anglada-Escudé, Natalie Batalha and Michaël Gillon, astronomers
Julian Assange, founder of WikiLeaks
Margaret Atwood, novelist
Stephen Bannon, White House Chief Strategist
Cindy Arlette Contreras Bautista, activist
Samantha Bee, actor, comedian
Fatou Bensouda, Chief Prosecutor, International Criminal Court
Jeff Bezos, CEO, Amazon
Simone Biles, gymnast
Bob Bland, Tamika Mallory, Carmen Perez and Linda Sarsour, organizers, Women's March
Jason Blum, director
Tom Brady, football player, New England Patriots
Gretchen Carlson, advocate for workplace equality, former Fox News anchor
Chance the Rapper, rapper
George Church, geneticist
James Comey, director, FBI
James Corden, host, The Late Late Show with James Corden
Viola Davis, actor
Rodrigo Duterte, President of the Philippines
Ava DuVernay, director
Daniel Ek, co-founder and CEO, Spotify
Theo Epstein, president of baseball operations, Chicago Cubs
Recep Tayyip Erdoğan, President of Turkey
Fan Bingbing, actor
Bob Ferguson, Attorney General of Washington
Melinda Gates, philanthropist
Donald Glover, actor, writer, rapper
Ashley Graham, model
Glenda Gray, physician and researcher
Kirsten Green, founder, Forerunner Ventures
Gavin Grimm, activist
Demis Hassabis, artificial intelligence pioneer
LeBron James, basketball player, Cleveland Cavaliers
Barry Jenkins, director
Leslie Jones, comedian, actor
Colin Kaepernick, football player
Alicia Keys, singer
Kim Jong Un, Supreme Leader of North Korea
Jared Kushner, White House senior adviser
John Legend, singer, songwriter
John Lewis, U.S. Congressman, 5th District of Georgia
Leila de Lima, Philippine opposition senator
Jean Liu, president, Didi Chuxing
Demi Lovato, singer
Barbara Lynch, chef, restaurateur
Kerry James Marshall, artist
General James Mattis, Secretary of Defense, U.S.
Theresa May, Prime Minister of the United Kingdom
Conor McGregor, mixed martial artist
Rebekah Mercer, Republican donor
Alessandro Michele, designer, Gucci
Narendra Modi, Prime Minister of India
Neymar, soccer player
Sandra Day O'Connor, former Supreme Court Justice, founder, iCivics
Sarah Paulson, actor
Jordan Peele, actor, comedian, filmmaker
Tom Perez, chairman, Democratic National Committee
Ben Platt, actor
Pope Francis, Pontifex
Reince Priebus, White House Chief of Staff
Vladimir Putin, President of Russia
Ryan Reynolds, actor
Margot Robbie, actor
RuPaul, television personality
Raed Saleh, head of Syria's White Helmets
Juan Manuel Santos, President of Colombia
Chuck Schumer, U.S. Senator, New York
Vijay Shekhar Sharma, entrepreneur, founder, Paytm
Ed Sheeran, singer, songwriter
Cindy Sherman, photographer
Raf Simons, designer, chief creative officer, Calvin Klein
Qasem Soleimani, commander of Iran's Quds Force
Evan Spiegel, CEO and co-founder, Snapchat
Emma Stone, actor
Donald Trump, President of the United States
Ivanka Trump, White House special assistant
Dr. Celina Turchi, infectious disease expert
Bernard J. Tyson, CEO, Kaiser Permanente
Hamdi Ulukaya, entrepreneur, CEO, Chobani
King Maha Vajiralongkorn, King of Thailand
Guus Velders, atmospheric chemist
Margrethe Vestager, antitrust czar, European Union
Jeanette Vizguerra, activist
Wang Qishan, senior leader, Communist Party, China
Elizabeth Warren, U.S. Senator, Massachusetts
Colson Whitehead, novelist
Constance Wu, actor
Xi Jinping, President of the People's Republic of China, General Secretary, Communist Party, China
Janet Yellen, chair, Federal Reserve
Yuriko Koike, governor of Tokyo
Copyright 2018 TheCable. Permission to use quotations from this article is granted subject to appropriate credit being given to www.thecable.ng as the source.