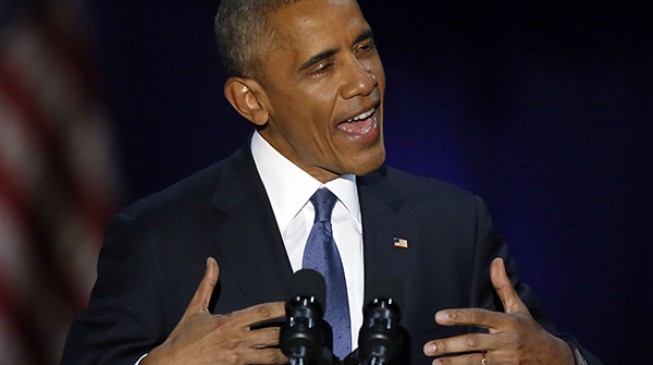 Barack Obama, outgoing president of the United States, urged Americans to "jealously" protect democracy during his emotional farewell address on Tuesday night.
Speaking in his home state of Chicago, Illinois, Obama made it clear very early in the speech that he would be focusing on democracy.
Obama acknowledged the fact that America has flaws while noting that the country is "exceptional" and possesses the capacity to change and continuously move forward.
"For 240 years, our nation's call to citizenship has given work and purpose to each new generation. It's what led patriots to choose republic over tyranny, pioneers to trek west, slaves to brave that makeshift railroad to freedom. It's what pulled immigrants and refugees across oceans and the Rio Grande, pushed women to reach for the ballot, powered workers to organize. It's why GIs gave their lives at Omaha Beach and Iwo Jima; Iraq and Afghanistan – and why men and women from Selma to Stonewall were prepared to give theirs as well.
"So that's what we mean when we say America is exceptional. Not that our nation has been flawless from the start, but that we have shown the capacity to change, and make life better for those who follow.
"Yes, our progress has been uneven. The work of democracy has always been hard, contentious and sometimes bloody. For every two steps forward, it often feels we take one step back. But the long sweep of America has been defined by forward motion, a constant widening of our founding creed to embrace all, and not just some.
He strongly cautioned that America's democracy should not be taken for granted, and urged his country's citizens to dedicate themselves to rebuilding democratic institutions.
Obama implored everyone to participate in democracy, politics and advocacy with the overall aim of improving America.
"Our democracy is threatened whenever we take it for granted. All of us, regardless of party, should throw ourselves into the task of rebuilding our democratic institutions. When voting rates are some of the lowest among advanced democracies, we should make it easier, not harder, to vote.
"When trust in our institutions is low, we should reduce the corrosive influence of money in our politics, and insist on the principles of transparency and ethics in public service. When Congress is dysfunctional, we should draw our districts to encourage politicians to cater to common sense and not rigid extremes."
"It falls to each of us to be those anxious, jealous guardians of our democracy; to embrace the joyous task we've been given to continually try to improve this great nation of ours. Because for all our outward differences, we all share the same proud title: Citizen."
"Ultimately, that's what our democracy demands. It needs you. Not just when there's an election, not just when your own narrow interest is at stake, but over the full span of a lifetime. If you're tired of arguing with strangers on the internet, try to talk with one in real life. If something needs fixing, lace up your shoes and do some organizing.
"If you're disappointed by your elected officials, grab a clipboard, get some signatures, and run for office yourself. Show up. Dive in. Persevere. Sometimes you'll win. Sometimes you'll lose. Presuming a reservoir of goodness in others can be a risk, and there will be times when the process disappoints you."
The outgoing president also touched on a number of his achievements in office, in the past eight years.
Obama reminded Americans that his administration overcame a "great recession", created jobs on a consistent basis and made health insurance possible for 20 million people.
"If I had told you eight years ago that America would reverse a great recession, reboot our auto industry, and unleash the longest stretch of job creation in our history.
"If I had told you that we would open up a new chapter with the Cuban people, shut down Iran's nuclear weapons program without firing a shot, and take out the mastermind of 9/11.
"If I had told you that we would win marriage equality, and secure the right to health insurance for another 20 million of our fellow citizens – you might have said our sights were set a little too high."
Copyright 2018 TheCable. Permission to use quotations from this article is granted subject to appropriate credit being given to www.thecable.ng as the source.