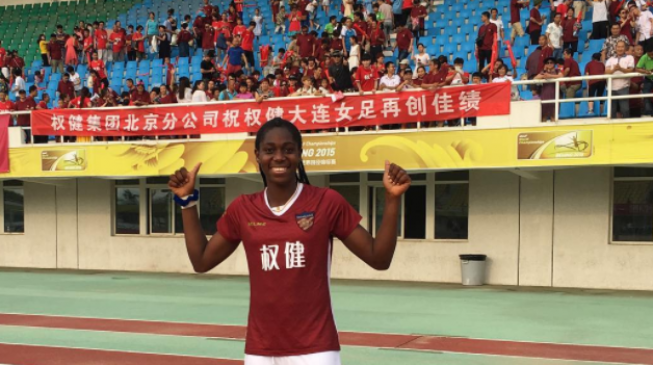 Asisat Oshoala, who recently moved to the Chinese League, says she feels like a professional footballer for the first time in her career.
The African footballer of the year said the female professional league in China is as good as its counterparts in European countries.
"This is a fully professional club and since I started playing football, this is my first year feeling like a real professional football player because everything is available including the money," Oshoala told TheCable.
The 22-year-old goal poacher said it's a wrong perception to think the Chinese female league is inferior by any standard.
"There's no much difference in the league in terms of the game itself," Oshoala said, adding that, "nothing much aside from the tactical aspect.
"People are only talking based on assumption, none of them know what the league looks like. Talking about the facilities, managerial ability, England is nowhere near China.
"My coach is one of the best coaches in the world. He was with Lyon then moved to PSG before moving to China last year. I am in safe hands and I am under someone who helps me improve my game daily."
According to Oshoala, the Chinese League is unique and far superior to any she's played in.
"Actually, most of them compare it to that of the male side but it's not the same. Check out the history of female football and check the Asia record during World Cups," said the Dalian Quanjian FC player.
"Good facility you would never see in Europe in terms of stadium, gym and having personal training time. Its been very interesting so far, a different lifestyle plus a top professional feeling.
"That hasn't been a problem for me as I came here with food stuffs from Nigeria and I have a translator here. My coach is a French man but speaks English as well, so it's been quite comfy."
Copyright 2018 TheCable. Permission to use quotations from this article is granted subject to appropriate credit being given to www.thecable.ng as the source.