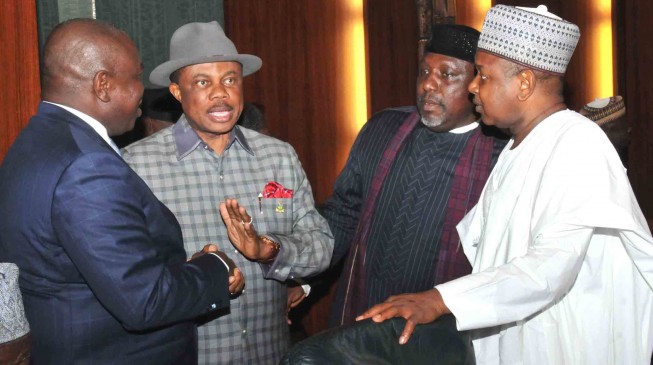 The Nigeria Governors' Forum (NGF) says it awaits the result of the Economic and Financial Crimes Commission's (EFCC) probe of the N522bn Paris Club and London Club loan refund.
The funds were over-deductions from statutory allocations to the states for external debt service between 1995 and 2002.
In December 2016, the federal government released the funds to the states to meet their statutory obligations.
However, the funds, which were largely for the payment of state workers salaries, were alleged to have been fraudulently diverted.
According to a report, this prompted the presidency to order a probe. The EFCC then launched an investigation into the allegation, but it is yet to release its findings.
There were reports that the agency questioned Asishana Okauru, NGF's director-general, and some other officials of the forum.
The governors were said to be unhappy with the decision to quiz its officials.
Speaking with reporters after the national economic council (NEC) meeting in Abuja on Thursday, Abdulaziz Yari, Zamfara state governor and chairman of the NGF, said the forum supports the government's fight against corruption.
"We discussed the issue of Paris Club and London Club. We observed that EFCC said it is doing investigations. Yeah, we support the federal government for fighting corruption," he said.
"We are waiting for the EFCC to come up with what they say is the investigation and come up with the result."
The governors met at the old banquet hall of the presidential villa in Abuja on Wednesday to review issues on the loan.
Copyright 2018 TheCable. Permission to use quotations from this article is granted subject to appropriate credit being given to www.thecable.ng as the source.