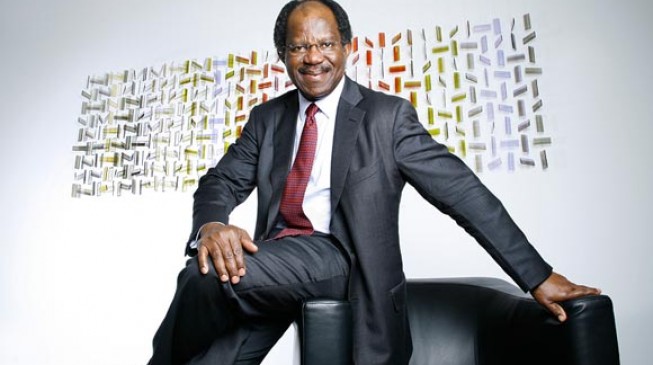 Adebayo Ogunlesi, a Nigerian business mogul who has majority stake in London Gatwick airport, will be advising Donald Trump, the US president-elect, on the economy.
Trump picked Ogunlesi to join a host of chief executives "who know what it takes to create jobs and drive economic growth" in an advisory council.
SON OF FIRST NIGERIAN PROFESSOR OF MEDICINE
According to his profile on Wikipedia, Ogunlesi is the son of TO Ogunlesi of Makun, Sagamu Ogun state, who is the first Nigerian professor of medicine.
The 63-year-old businessman attended King's College, Lagos, after which he received his bachelor of arts degree with first class honours in philosophy, politics and economics from Oxford University, his jurist doctor, magna cum laude, from Harvard Law School and his master in business administration from the Harvard Business School.
INFORMAL ADVISER TO NIGERIAN GOVERNMENTS
Ogunlesi has served as an adviser, though informally, to Nigerian governments. He was an informal adviser to former President Olusegun Obasanjo on privatisation. Despite having lived in the US for decades, he still maintains ties with his homeland.
Ogunlesi, who is the chairman and managing partner of Global Infrastructure Partners, a joint venture whose initial investors included Credit Suisse and General Electric, is also a member of the board of directors of Goldman Sachs.He was named lead director on July 24 2014.
Prior to his current role, he was executive vice chairman and chief client officer of Credit Suisse, based in New York.
Ogunlesi also served as a member of Credit Suisse's executive board and management council and chaired the chairman's board. Previously, he was the global head of investment banking at Credit Suisse.
Since joining Credit Suisse in 1983, he has advised clients on transactions and financings and has worked on transactions in North and South America, the Caribbean, Europe, the Middle East, Africa and Asia. In 2009, Global Infrastructure Partners acquired the majority share in London Gatwick Airport in a deal worth £1.455 billion.
Prior to joining Credit Suisse, Ogunlesi was an attorney in the corporate practice group of the New York law firm of Cravath, Swaine & Moore. From 1980-81 he served as a law clerk to Thurgood Marshall, associate justice of the United States supreme court.
He is a member of the district of Columbia Bar Association. He was a lecturer at Harvard Law School and the Yale School of Organisation and Management, where he taught a course on transnational investment projects in emerging countries.
The Trump Council
Other members of Trump's advisory council are Stephen A Schwarzman (forum chairman), chairman, CEO, and co-founder of Blackstone; Paul Atkins, CEO, Patomak Global Partners, LLC, former commissioner of the Securities and Exchange Commission; Mary Barra, chairman and CEO, General Motors; Toby Cosgrove, CEO, Cleveland Clinic; Jamie Dimon, chairman and CEO, JPMorgan Chase & Co; and Larry Fink, chairman and CEO, BlackRock.
Others are Bob Iger, chairman and CEO, The Walt Disney Company; Rich Lesser, president and CEO, Boston Consulting Group; Doug McMillon, president and CEO, Wal-Mart Stores, Inc.; Jim McNerney, former chairman, president, and CEO, Boeing; Ginni Rometty, chairman, president, and CEO, IBM; Kevin Warsh, Shepard Family Distinguished Visiting Fellow in Economics, Hoover Institute, former member of the board of governors of the Federal Reserve System; Mark Weinberger, Global Chairman and CEO, EY; Jack Welch, former chairman and CEO, General Electric; and Daniel Yergin, Pulitzer Prize-winner, vice chairman of IHS Markit.
Copyright 2018 TheCable. Permission to use quotations from this article is granted subject to appropriate credit being given to www.thecable.ng as the source.