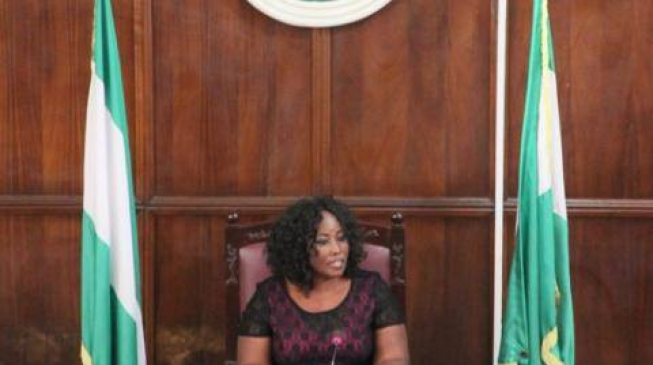 On Wednesday, 24 of the 34 members of the Katsina state house of assembly voted in favour of the removal of Aliyu Muduru as speaker. 
Muduru was replaced with Yahya Abubakar from Kusada constituency.
His removal happened three weeks after Jumoke Akindele, first female speaker of the Ondo state house of assembly, was sent packing.
Akindele had earlier been removed in March 2016, but Olusegun Mimiko, outgoing governor of the state, intervened and she was reinstated.
The next time when the hammer fell on her, the influence of Mimiko had dwindled, as he was less than a month to the end of his tenure.
At least six speakers have been removed since President Muhammadu Buhari assumed office on May 29, 2015, with about four put under pressure to relinquish their positions.
Yakubu Dogara, speaker of the house of representatives, expressed concern over the development, which he described as an "existential threat" to the nation's democracy.
"The recent spate of impeachment of speakers of houses of assembly of states gives cause for grave concern," Dogara said in his maiden address at the house of reps in 2017.
"While we recognise the constitutional right of the legislature to conduct its internal affairs, including the right to hire and fire its leadership, it presents a different scenario where such leadership hiring and firing is rife with accusations and insinuations of external influence and also devoid of extant procedure.
"Leaders everywhere can only function efficiently where there is certainty that commendation is the reward for good leadership and sanction the consequence of inept leadership."
Before Dogara spoke out, there have been reports that some governors or powerful politicians sponsor shakeup at parliament to score cheap points, settle political differences or pave way for the emergence of individuals who could do their bidding.
In some cases, those ousted happen to be victims of power play or political calculation. A good instance is that of Mommoh Jimoh, who was forced to step down for belonging to the same ethnic group with Yahaya Bello, who had just emerged governor.
Although the removal of speakers happen at intervals and different periods, it is troubling that the lawmakers give similar reasons for their action.
The speakers are either accused of "gross incompetence and misconduct" or "failing to carry their colleagues along" in affairs of the assembly.
The constitution  states that two-third majority of the house is required to remove a speaker, but it didn't clearly define"gross misconduct".
Section 92 (2) (a) (b) and (c) of the constitution says: "The speaker of deputy speaker of the house of assembly shall vacate office – if he ceases to be a member of the house of assembly otherwise by reason of the dissolution of the house.
"When the house first sits after dissolution of the house or if he is removed from office by a resolution of assembly by votes of not less than two-thirds majority of all members of the house."
Speaking when he featured on a programme on Channels Television back in 2015, Wahab Shittu, a legal practitioner, said some sections of the constitution need to be properly interpreted.
Shittu said the constitution needed to clarify what actions by a speaker could amount to "gross misconduct."
He suggested that a code of political and ethical conduct be put in place to guide how politicians carry out their activities and it should be binding on every lawmaker.
In all, it is very clear that measures need to be put in place to prevent those who wield power from abusing it.
The legislative arm of government should focus more on its responsibility of checking the judiciary and executive, and should not be used as a tool in the hands of a selected few.
Below are details of all the speakers who have been removed under Buhari.
| NAME | STATE | DATE OF REMOVAL |
| --- | --- | --- |
| Momoh Lawal | Kogi | December 10, 2015 |
| Jumoke Akindele | Ondo | March 9, 2016 (removed again Jan 28, 2017) |
| Victor Edoror | Edo | May 3, 2016 |
| Martins Azubuike | Abia | December 29, 2016 |
| Idris Garba | Jigawa | January 3, 2017 |
| Aliyu Muduru | Katsina | February 15, 2017 |
Copyright 2018 TheCable. Permission to use quotations from this article is granted subject to appropriate credit being given to www.thecable.ng as the source.