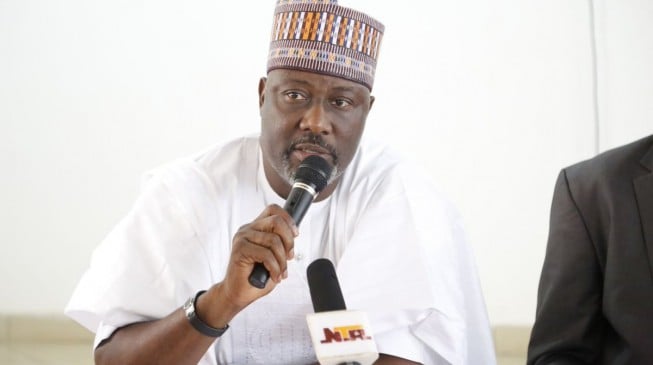 A federal high court in Abuja has fixed September 11 to deliver judgment in a suit filed by Dino Melaye, a senator from Kogi west,  challenging his planned recall by some voters in his constituency.
Nnamdi Dimgba, the judge, fixed the date after listening to arguments from all parties involved in the suit.
The Independent National Electoral Commission (INEC) had commenced the process to recall Melaye, but the senator went to court to stop it.
One of the grounds, on which Melaye is challenging his recall, is that the signatures of some of the voters in the petition for his recall are fictitious.
Melaye who argued his case through his counsel, Nkem Okoro, said the majority of the signatories to the petition were dead people.
He added that death certificates were attached to the processes he filed as exhibits to ascertain the veracity of his claim that some of the signatories were late.
He also alleged that he was denied fair hearing by both his constituents and INEC.
"The petitioners ought to have informed Melaye of the facts and circumstances upon which the alleged loss of confidence was based prior to submission of the petition to INEC," he said.
"INEC upon receipt of the said petition only served Melaye a mere notice that it had received a petition for his recall. So we are challenging INEC's action.
"They should have shown a copy of the petition to Melaye and failure to do so amounts to denial of fair hearing and a violation of the laws of natural justice."
Okoro also said his client was challenging the validity of the petition on the grounds that the petition was based on political animosity, malice and bad faith.
He urged the court to grant the prayers of his motion and stop INEC from going ahead with the planned recall.
Counsel to the other plaintiffs in the matter said they aligned themselves with the arguments of Okoro.
But Anthony Adeniyi, counsel to INEC, said Melaye had failed to show the court the particular signatories on the petition to which the death certificates attached as exhibit belonged.
"If he attached death certificates, he should tell the court that this certificate for example, belongs to signature number 24 on the petition, but he failed to do that," he said.
Dimgba adjourned the matter until September 11 for judgment.
Copyright 2018 TheCable. Permission to use quotations from this article is granted subject to appropriate credit being given to www.thecable.ng as the source.