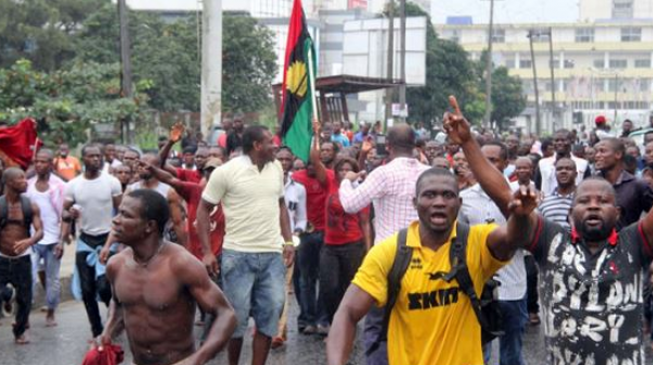 BY  NWAMAKA OKOYE
In Nigeria, when a woman gets married, the substance of her paternal home often influences the type of treatment she receives from her husband and his family. If she comes from an affluent, powerful home, she is likely to be treated with more deference than if she comes from a poor home in which her husband is probably subsidising her family's subsistence. The husband's family understands that if they treat a daughter from a respected affluent home badly, they have to contend with her family. The family may retrieve their daughter, if she is not fairly treated and the fringe benefits of the union are then lost by the man. Sometimes, even if the woman is very industrious and the bread winner in the family, she is still subjected to very harsh conditions by her husband, because he believes he has authority over her, and his in-laws are poor and "nobodies".
All the wealth acquired by the woman are in her husband's name and she gets no credit for it. In most Igbo (a tribe from Southeastern part of Nigeria) communities, a married woman cannot buy property in her name. If she agitates too loudly for fairer treatment, her husband sometimes threatens to 'send her packing', or throw her out of 'his house'. So, keep quiet, she must, because all her possessions are tied to this man, or risk returning to her paternal home scorned, where once married, she is no longer welcome, except as a visitor, no inheritance in her father's home. Remember her father is of meagre means anyway, and she has now become accustomed to the lifestyle she has built jointly with her husband. Where will she go?
Nigeria's union has recently been termed a marriage. Let us for a minute view Nigeria as a marriage with Igbos as a hard working bride (this is a polygamous marriage) from humble beginnings. Believing that marriage is "till death do us  part", all wealth acquired by the Igbos are in different parts of the nations, but hardly in the East. The promise of the union is an entire country (she has left her parents and joined to her groom 'till death do them part'). Alas, whenever the Igbo bride perceives she is unfairly treated, and  complains, she is threatened. When the Igbos clamour for their rights or a fairer share of the pie, they are threatened. Every time Igbos show a tendency as  group, they are threatened. The husband threatens to throw her out of his home'. The recent agitations of a group called the Indigineous People of Biafra (IPOB), has attracted a lot of national attention, even made more notorious because of the detention of Nnamdi Kanu, one of the IPOB leaders. Most Nigerians are unclear about what the agitations are for. These agitations have however, led to an ultimatum issued to the Igbos by two youth groups – one in the North and one in the South West. Shut up!..or leave. In fact in the North, the bride has been asked to 'pack out' the 15th of September 2017. The question is, 'why do these 'youth' (Arewa and Oduduwa groups) feel so emboldened as to issue these unconstitutional ultimatums?'  I daresay, because they believe that if Igbos leave, they will have access to the assets that the Igbos have acquired, and have more resources to enjoy. This is not a conjecture. They clearly stated that they would reclaim all Igbo assets owned or leased, at the expiration of the ultimatum (http://www.vanguardngr.com/2017/06/igbo-quit-notice-fg-northern-govs-slam-arewa-youths/). They believe they have nothing to lose and everything to gain, because like the abusive husband in the analogy above, all the wealth was acquired in the marriage name, and the bride's family has no wealth or power.
If you are Igbo, you cannot afford to do nothing. The ultimate outcome of a few people's actions affects you. As the flames are being stoked, sticking your head in the sand and pretending it does not concern you, is like a man whose flesh has become gangrenous, but continues to walk about seemingly oblivious, spraying perfume on the rotten flesh. Eventually, the rot will eat you up. So, what's an Igbo man/woman to do? As a people, the Igbos need to look beyond individual development and be strategic. The truth is, whether you keep quiet, or you engage, when all hell breaks loose, you will be identified as Igbo first, and whatever treatment is meted to Igbos will be given to you. So, how do we navigate out of this mess? This is a question all Igbos should ask themselves as this matter unfolds? I have done so, and will share in the next few paragraphs my musings.
DEVELOP THE SEA (SOUTH EASTERN AGENDA)
Igbos must strategically decide to beef up their bargaining power by building a position of relative strength. How? We must develop the Southeast as a unit, as a matter of strategic urgency. It is true that at this time, there is more money to be made by running businesses in the big cities all over Nigeria (Lagos, Abuja, Kano), but investing resources in a place that can kick you out at the drop of a hat, and retain those resources, when you have no fall-back plan, can be at best termed an unwise decision. Especially when historically this has happened before.  The reaction of Igbos to the aftermath of the civil war, was to build mansions in the east. Why? Because many affluent Igbo people had no home to return to, when they fled other parts of Nigeria during the war. Then, they realized the need to build a home first in the Southeast. This is why Igbo mothers nag their children born during or after the war, or who were too young to understand, to build a home in the village first. To a cosmopolitan Nigerian of Southeastern origin, fifty-five and under, it does not make financial sense. Why tie down precious capital building a house in the village, where if you are lucky, you spend only two weeks in a year? It seems like an unwise move financially. You can put the money to work in the big cities and get higher yields. However, if you do a risk assessment, adding the risk of being forcibly evicted from the cities you now call home, then it becomes imperative to do so, and foolhardy to do otherwise.
The truth is, building mansions in the east will not develop the Southeast. We have already tried that. Scarred by the war, the men and women of Southeastern origin in their late sixties and seventies already have beautiful mausoleums, decaying and burdensome to their children in diaspora, who have no intention of ever settling in the Southeast.  These children are scornful of their parents' wastefulness or at best patronizing of the parents' desire to own empty mansions in the East. The Igbo race is filled with so much potential. I truly believe we are very intelligent but also a proud race. This pride sometimes makes Igbos unable to form a coalition, or unable to follow a leader. "Igbo enwe eze" is an adage that says the Igbos have no king. Each man is his own king, and he determines his future. This bold stance makes the Igbos great entrepreneurs, bold migrants, but not the greatest nation builders. I say it's time to stop whining and move in a calculated strategic manner. We have complained that we have been marginalized, especially in the current  administration. That is true, but, we are not as helpless as we imagine. What can we make out of our current situation?  We need a cohesive development agenda for the entire Southeast region, as a proactive way to remove the existential threat we now face as a people.  As a matter of urgency, the people of the South East need to come together.
The Igbos need a Southeastern Agenda as a region. This agenda needs to be committed to by all the governors of the Southeastern states, with a master plan mapped out of the entire South Eastern region. This plan needs to create an economically viable independent region.  We need a master plan of the entire region, not just one state, then we need a commitment by successive governors, senators, and leaders to push this agenda, quietly but surely. Then we sell this dream to the people. Especially those in diaspora to invest in the development of this region. Each State can decide based on its core strength, what it will be known for, eg: Anambra for commerce, so it is developed along those lines. Enugu for tourism and education, Imo Owerri, for entertainment and commerce, etc. If each of these states decides what makes them great individually, then put them together to make one contiguous zone without competition; rather with complementary strengths, Within 10 years, the Southeast will be an attractive place to live in. Peter Obi during his tenure as governor attracted notable investments to Anambra State, and Obianor seems to be aggressively going down that line, but, quality of life is the issue in many of the Eastern States. If I have a job in SAB Miller in Anambra State, where do my children go to school? Where can we go on the weekend to relax. When it is time for secondary school are there world-class schools for my children to attend.?Where do I live? Can I take a stroll around my housing estate? Are there tasteful places to hang out and relax? Are there other families like mine around? When Peter Obi was governor, he said he was trying to lay a basic foundation, to enable development. He was largely successful at that. What is the next step for the region? Have other states built this basic foundation? What will be the centres of development? Of what will the development be hinged on?  Whatever it is, once identified, then we proceed steadily in that direction; attracting major investments to a clear future. If together we can paint a clear picture of a bright future, we would not need to agitate for a separate state. However, if we choose (or are forced) to do that, we have higher bargaining power. This will assure of Igbos of a fairer share of the pie, or their own juicy pie.
Copyright 2018 TheCable. Permission to use quotations from this article is granted subject to appropriate credit being given to www.thecable.ng as the source.