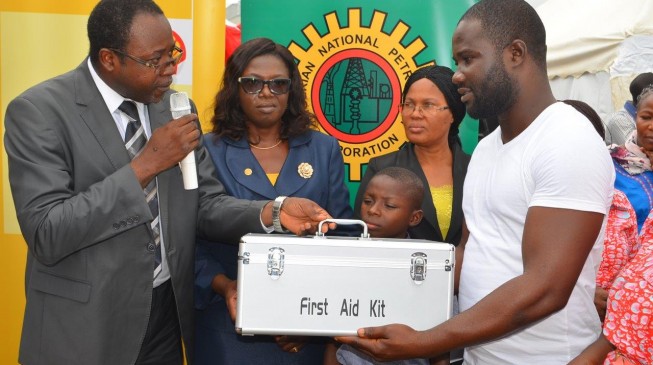 A total of 4,224 people benefitted from Shell's Health-in-Motion progamme in Gidan Mangoro community of Karu in Abuja last week, Shell Nigeria Exploration and Production Company (SNEPCo) said on Sunday.
Medical supplies were also provided to five local primary schools under the programme which was launched in the Niger Delta in 2005.
This was the fist outreach in the federal capital territory.
People from the Gidan Mangoro community benefitted from different services, including eye, dental, mass deworming, cardiovascular screenings, HIV and malaria testing and breast and cervical cancer screenings services.
Three women were treated with cryotherapy on the spot for early stages of cancer of the cervix while 17 women with breast lumps had free mammograms done, SNEPCo said, adding that 600 people with impaired vision received reading glasses while those requiring further management were referred to the general hospital in Karu.
Speaking at the opening session of the two-day programme, managing director of SNEPCo, Bayo Ojulari, said the crusade aimed to take "free promotive, preventive and curative health services to the hard-to-reach communities in Nigeria".
"We hope to be able to support the efforts of government at all levels in providing accessible healthcare to the people," said Ojulari, represented by Shell's regional community health manager, Akinwumi Fajola.
He advised against ignoring early signs of health challenge which he said could make it difficult for prompt and effective management by medical officers.
Adebimpe Adebiyi, representing health minister Isaac Adewole, commended the Health-in-Motion initiative, disclosing that the federal government was willing to collaborate with SNEPCo to take the programme to other communities in Nigeria.
A beneficiary, Iyke Judith, who is a widow, said:  "My heart is full of joy to know that all the services – eyes screening and glasses; drugs; laboratory tests; everything is free.  I am so happy; may God Almighty bless the company. I believe it is because of me that the company came here because I have been sick for some time now especially after my spinal surgery and had no money to visit the hospital.  This programme has just solved my health issues."
The medical outreach was held in collaboration with the Abuja municipal area council.
PHOTO:  Shell's regional community health manager, Akinwunmi Fajola, (left) presenting a first aid box to one of the beneficiaries.
Copyright 2018 TheCable. Permission to use quotations from this article is granted subject to appropriate credit being given to www.thecable.ng as the source.