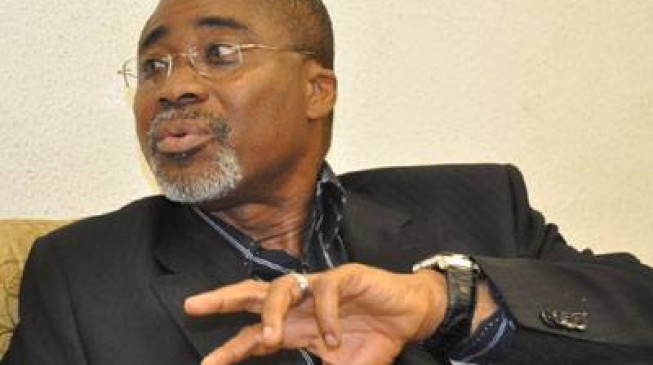 Senators from the south-east say the people in the region are only exercising their constitutional rights, and that it does not "warrant a wholesale military expedition".
In a statement on Tuesday, Enyinnaya Abaribe, senate chairman of the south-east caucus, said the military action in the region has a "high propensity for casualty".
Following Tuesday's "show of force" by the army in the hometown of Nnamdi Kanu, leader of the Indigenous People of Biafra (IPOB), Abaribe called for caution and a de-escalation of the situation in the region.
"We had hoped that our ongoing engagement with the group be given a chance, and here we are, with a hurried military action deep into a highly populated area with high propensity for casualty, which occurrence would rather escalate the already tense situation," the statement read.
"It is more worrisome that the military's operation 'python dance II' restricted to the south-east in a peace time, has no doubt fouled the environment and sent strong signal that the region is under siege, which should not be so in a democracy.
"We therefore urge extreme caution, and advise the military to de-escalate the situation and choose the best operational modus that will not only guarantee the safety of Nigerians, but also enhance national unity.
"Nigeria is not at war. People are only exercising their constitutional and universally guaranteed rights. So far they are carrying on in a manner that has never given room to violence which could warrant a wholesale military expedition."
Also expressing dismay at the military operation, Jim Nwodo, president-general of Ohanaeze Ndigbo, described the development as "unfortunate" and a "deliberate invasion of a quiet homestead".
He said the freedom of expression is critical for a successful democracy.
"Ohanaeze Ndigbo is left with no alternative than to conclude that this is a containment policy aimed at the south-east to intimidate our people from freely expressing their anger and angst at their marginalisation and treatment as second class citizens," the statement by Nwodo read.
"In a democracy the level of disenchantment expressed by the people of the south-east of Nigeria ought to have provoked a serious dialogue between our people and the federal executive and the legislature.
"History teaches us that the continuous use of force to silence dissent and free speech will only accelerate the growth of dissent and dissatisfaction. Fundamental rights of freedom of expression are critical for a successful democracy.
"Our people were shamelessly intimidated and harassed at these check points. Operation Python Dance 1 procured no arrests of criminals that were prosecuted for any of the criminal activities that Operation Python Dance II is supposed to address.
"Instead it witnessed reckless and indiscriminate murder of self-determination agitators in Asaba, Aba, Nkpor, and Port – Harcourt numbering up to 191 by the estimates of Transparency International and shattered public confidence of south-easterners in the Nigerian army and police."
Copyright 2018 TheCable. Permission to use quotations from this article is granted subject to appropriate credit being given to www.thecable.ng as the source.