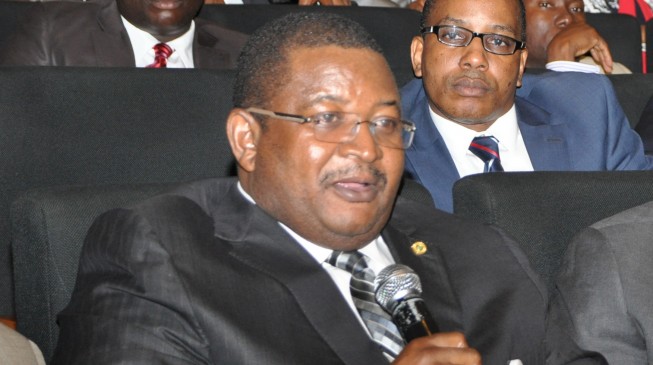 How much 'dollars' (if you like, put 'money') does a man actually need in life? How much money does a sane and rational human being need to live modestly or even comfortably without stealing, looting public funds or engaging in shady deals?
Quite frankly, what type of greed makes a man acquire public funds so gluttonously without giving a damn like Andrew Yakubu, former Group Managing Director of the Nigerian National Petroleum Corporation (NNPC), did with the sums of $9.7 (N2.96 billion) and £74,000 (N28.19 million) recovered in a property which allegedly belongs to him in the Sabo Tasha area of Kaduna if not absolute wickedness and outright godlessness?
These, among other questions, are what I've been asking myself since photos of the fearsome mountain of dollars and atrocious pounds recovered from the 62-year old Yakubu emerged in the media late last week following a raid by the Economic and Financial Crimes Commission (EFCC) triggered by the patriotic alarm of a whistleblower.
In this same country where the mere sum of N1, 000 only has sent some citizens to early graves as a result of the sad condition that they couldn't afford to buy lifesaving drugs, to then see a single individual in custody of such sums recovered from Yakubu undoubtedly acquired through dubious means, is nothing but insanity and inhumanity at its very peak. And to think that he was content allowing the funds idle away inside the fireproof safe he kept them without being concerned about putting those billions of naira to good use that could add some value to the national economy!
Honestly, what type of man is this?
Yakubu's disclosure that the sums were gifts should not be taken seriously. That's a ruse. But then, they could well be. That's why he needs to name names if he wants to be taken seriously.
But frankly, he can't bobo us. They monies were kickbacks. Plain and simple. They were proceeds of corruption and abuse of office. Now, we know without any iota of doubt: Yakubu, this Ahmadu Bello University-trained Chemical Engineer, is one of the wicked and shameless leaders we are unlucky to have whose conscience have not only been seared with hot iron but have also unarguably sold their souls to the devil! Nigerians will surely never forget.
In all of these, however, it is cheering that Justice Zainab Abubakar, of the Federal High Court sitting in Kano, has since ordered the forfeiture of the recovered sums. Although the forfeiture is temporary, one looks forward with bated interest to hear Yakubu squeal on the identities of those who gave him the blood dollars and what favours he granted them for which they would appreciate him with such money as we saw paraded on TV. I really await his prosecution for the crimes he committed against the Nigerian state as GMD of NNPC, a corporation which has more or less become negatively transformed to a rogue one because of its string of corporate thieves and scoundrels in high places.
Meanwhile, Nigerians should pay no attention to a group like the Southern Kaduna Coalition of Professionals (SKOP) which released a statement Thursday faulting Yakubu's detention and alleging that some people were plotting to pull down their "illustrious son and sacrifice him to the dogs as a means of weakening the strong among us ahead of the 2019 general election."
Friends, that's the type of country we have created for ourselves when some people have been so compromised by filthy lucre that they no longer know what's good and what's bad, what's sane and what's insane, and what's appropriate and what's not. Honestly, they deserve our pity.
As I conclude this week, I personally would love to see Yakubu paraded by the EFCC live on national TV. He must be made to tell us the identities of all those who gave him the gifts and what favours he granted them to be so rewarded. But most importantly, he must apologise for his wrong behaviour by prostrating to millions of over 180 million Nigerians for his betrayal of our trust. Generations to come need to see the humiliation of rogue leaders like him who pretend to serve the country as professionals in government but are nothing but high-profile robbers in designer clothes. Perhaps humiliation will shame people like him to repentance and dissuade others from looting public funds in future. Grovelling before Nigerians, for me, is a little humiliation to give a man who gave no damn about the country or its future. After that, he can then be made to face the full wrath of the law.
Finally, beyond the dollar showcase which the EFCC has treated the nation to, Nigerians, who haven't stopped talking about the recovered money on radio or sharing it on social media platforms, are keenly watching and waiting to see the clear evidence of the usage of recovered looted funds by this administration in visible infrastructural development evenly spread across the country.  The government must not fail in this regard. That's something it shouldn't dare.
Follow me on twitter: @ofemigan
Copyright 2018 TheCable. Permission to use quotations from this article is granted subject to appropriate credit being given to www.thecable.ng as the source.