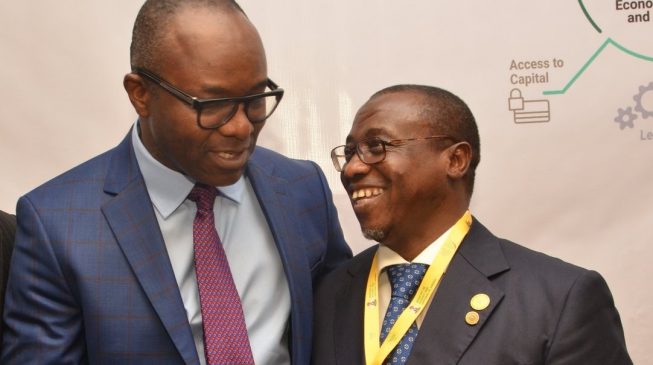 Tam David-West, former minister of petroleum resources, says the allegations brought against Maikanti Baru, group managing director of the Nigerian National Petroleum Corporation (NNPC) by Ibe Kachikwu, minister of state for petroleum resources, could not have been true.
He said the strict rules guiding the operations of the oil body makes it unlikely.
Speaking with journalists in Ibadan, Oyo state on Tuesday, David-West said he had avoided commenting on the NNPC for many years until he read the corporation's reply letter to the minister's allegations.
He described NNPC's reply as a relief, saying it confirmed his doubts about the allegations.
"On reading Kachikwu's letter, I was flabbergasted that something like that could ever happen. If it is the NNPC that I know, I can't believe that all those things could have happened. The rules of lifting oil are so strict that when I read his letter, I could not believe my eyes.
"To lift oil within Nigeria, you must be a corporate organisation or a country. If it is a corporate organisation, you must have a minimum of 20 staff and have a refinery. If it is a country, it must also have a refinery. The organisation must also submit audited financial report of three consecutive years and deposit a non-refundable fund of $1.5 million.
"Again, oil contracts are not discussed at either NNPC board meetings or Federal Executive Council meetings to avoid slowing down decision-making process. The corporation has its own tenders board though the basic rules have been updated over time.
"So, I was relieved on reading NNPC's response. It confirmed that things have not gone so bad as Kachikwu portrayed it in his letter.
"As a matter of fact, if the content of the letter were true, it would scare players in the oil industry away from Nigeria.
"With those strict conditions, it baffled me to read what Kachikwu wrote."
Kachikwu had said that it was distressing that his "confidential" letter to President Muhammadu Buhari was leaked.
But David-West said there was a controversy surrounding the leakage of the letter, adding that it surprised him.
He explained that all parties involved in the letter could not have leaked it because it would be an indictment on them.
TheCable reported that Kachikwu submitted the letter to Buhari only after it was leaked to the media.
"I was surprised that Kachikwu's letter was also leaked to the press because it was an embarrassment to the President," he said.
"Definitely, something fundamental is wrong somewhere. The letter could not have been leaked by the Presidency because it was an embarrassment to the President. It could also not have been leaked by Maikanti Baru because it would have been an indictment on him."
Copyright 2018 TheCable. Permission to use quotations from this article is granted subject to appropriate credit being given to www.thecable.ng as the source.