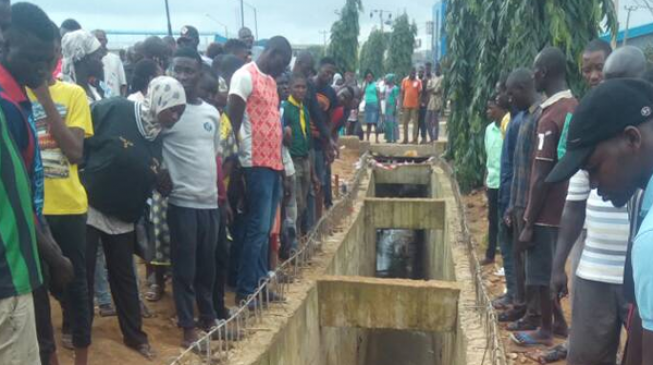 The police has discovered a couple of hideouts – where human body parts have been found – believed to be dens for ritualists.
In one very pathetic case, reported by the Nigerian Guardian Newspaper, a street sweeper called the attention of passersby when she heard the cries of a woman and her baby in a tunnel at Ijaiye, Lagos State.
Unfortunately, before the woman could be rescued, she had been killed. But her baby was found alive.
Under this tunnel, body parts, charms, carvings, white clothes stained with blood and native soaps were found. One suspect is said to have confessed to be part of a 28-man gang –who targeted pedestrians and killed them for rituals — operating under this tunnel. [The Cable.ng has not been able to confirm this particular story.]
As barbaric and ridiculous as ritual killing might sound, it is a flourishing enterprise in many African countries. In Uganda, a BBC report chronicled how wealthy people paid witch doctors to conduct sacrifice with children in order to expand their fortunes. Some national newspapers in Swaziland and Liberia have alleged that politicians commission ritual killings in order to improve their odds in elections.
In some parts of South Africa, ritual killings are culturally accepted and doesn't make the news. The African Charter on Human and People's Rights' doesn't mean anything in these jurisdiction.
Those who practice ritual killings believe them to be acts of spiritual cleansing and fortification. They believe human body parts possess medicinal and spiritual powers. In most cases of ritual killings in Africa, traditional healers and witch doctors are at the centre stage. In the case of Uganda, the BBC reported that many believe that some elites paid witch doctors to procure body parts for sacrifice. How witch doctors procured them weren't their business.
One case in Nigeria gives an insight on how these witch doctors operate. Sometime in 2014, in Lagos State, an 18- year old boy, Ikechukwu Friday, who was alleged to have murdered a 12-year old girl, told the police that a 'pastor' whom he asked for financial support instructed him to kill a young woman and obtain her faeces. The pastor promised him N100, 000 if he could achieve the task.
With ritual killing on the increase in Nigeria, one of the ways to effectively check ritual killing is to regulate the operations of these witch doctors, healers and 'pastors'.
Regulations should force many organizations, which have been suspected to be involved in unwholesome acts, to make their activities more open for public scrutiny. Activists against ritual killings have called for this.
Many witch doctors, who are suspected to be involved in ritual killings, have their shrines in secluded areas and, sometimes, are not members of recognized unions of traditional healers. Some are well-known ritualists in their communities but everyone is afraid to speak up.
While urging the police to up their game, it is important that the police beams its search lights on well-known witch doctors, in communities, who have been reported to have rich clients.
Above all, Africans should reorient their minds. The surest routes to prosperity are hard work, integrity and knowledge. Let no one deceive you that some sort of spiritual sacrifice can replace these well-known routes. This is not to say that miracles don't happen. But the spirit of fortunes favors the prepared mind. The prepared mind is one who must have worked hard and done all that is necessary.
Copyright 2018 TheCable. Permission to use quotations from this article is granted subject to appropriate credit being given to www.thecable.ng as the source.