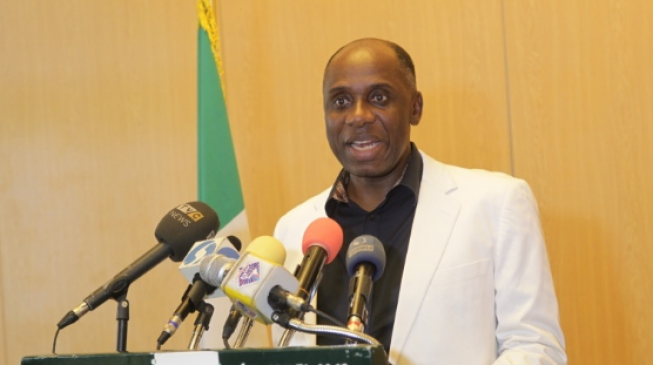 The ministry of transport says the south-east rail lines are not excluded from federal government's plan to upgrade the country's railways.
On April 26, President Muhammadu Buhari in a letter to national assembly sought the approval of the lawmakers to borrow $5.851 billion for the upgrade of various sections of the Nigerian railway.
But on Tuesday, the senate, after considering a motion, summoned Rotimi Amaechi, minister of transport, to appear before it and explain why the eastern corridor of the country's rail lines was excluded from the proposed loan from the China Exim bank.
In a statement on Friday, Yetunde Sonaike, the ministry's director of public relations, said the government's upgrade of rail project would cut across various sections of the country and therefore no section would be left out.
She said that the ministry was embarking on two major rail projects in the country – coastal rail project from Lagos-Calabar and the Lagos-Kano rail lines.
Sonaike said that the loan from China Exim Bank would be used to fund the three segments from the two major rail projects which were Lagos-Ibadan, Kano-Kaduna and Lagos- Kano.
"The federal ministry of transportation wishes to state clearly that the south-east geo-political zone has not been excluded from the federal government ongoing rail projects.
"The two major rail projects of the federal government are the Coastal Rail Project from Lagos-Calabar, which traverse Lagos-Shagamu-Ore-Benin City-Sapele-Warri-Yenogoa.
"With siding to Otuoke-Port Harcourt-Aba-Uyo-calabar and branch line from Benin City Abudu-Onitsha, including Onitsha rail bridge. Lagos-Kano rail project will traverse Lagos-Abeokuta-Ibadan-Oshogbo-Ilorin-Jebba-Minna-Kaduna-Zaria-Kano, with branch line from Minna-Abuja and Abuja-Kaduna.
"The federal ministry of transportation wishes to state categorically that the loan from China Exim Bank will be used to fund the following three segments from the two major rail projects. Lagos-Ibadan, from Lagos-Abeokuta-Ibadan with extension to Apapa Port Complex with the segment two of Lagos-Kano.
"Kano-Kaduna, segment 3A of Lagos-Kano, Calabar-Port Harcourt, which will pass through Port Harcourt-Aba-Uyo-Calabar with extension to Onne Deep Sea Port."
Copyright 2018 TheCable. Permission to use quotations from this article is granted subject to appropriate credit being given to www.thecable.ng as the source.