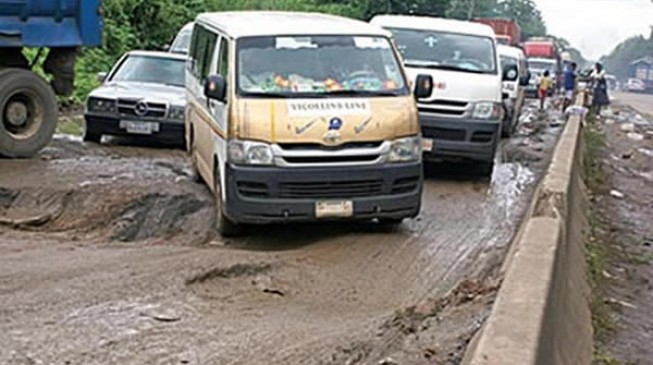 Nearly all Nigerians agree that travelling on our roads is a suicide mission. From terrible roads to crazy drivers, armed robbers to kidnappers, and extortionists claiming to be security agents, it is no wonder that we shout for joy whenever we get to our destinations safely.
I've been avoiding the Benin-Ore expressway, if we can still call it an expressway, like a plague for about three or four years now. But a funeral of a friend's husband took me to Adagbrasa in Okpe local government area of Delta State two weeks ago. It was an eye opener and while I'm not a doctor, I think all of us who were on that trip must just be recovering from posttraumatic stress disorder.
Earlier that same week, a quick dash to Abuja for a meeting reminded me again that we have a long way to go in the aviation sector. Attempts at having different gates for different airlines at the Abuja airport, which is how things should be, have created more problems than they were meant to solve. With an Air Peace ticket, I was supposed to board with other passengers at the same gate like Dana and Arik passengers.
The bedlam at the check-in counter could only be compared to those days in the 90s trying to board the ubiquitous Molue buses in Lagos. Only three people were attending to those of us flying Air Peace and the queues were not demarcated for different destinations. When I challenged the airline supervisor, he apologized profusely but asked me to direct my ire at the FAAN folks. "We've been here now for nearly two months even though they told us this is a temporary arrangement, " he added. The chaos at the boarding area was incomparable to the one at the check-in counter. Clearly, the hall could not cater for all of us there, using the bathroom was a difficult exercise as only one lavatory was available for use at the male section with two other enclosures. The female toilet is so far away that accessing it must be like going to war. The food on offer too from the only seller could not pass muster and one could not but felt that it was a prison.
My Abuja airport experience is tangential to this piece but it is worth sharing as well so that we can understand how our government organs do not seem to work for the good of citizens. Back to my Adagbarasa trip, the heavy rain of July 6 ensured a not-too-difficult journey on the Lagos-Ibadan expressway till we got to the Sagamu interchange. While some portions of the Benin-Ore road have been fixed and we actually saw workers of a construction company working, there are still large parts unfixed thereby posing great danger to travellers. A common sight is vehicles leaving their lanes and moving to the other side of the dual carriageway, something that I thought was a thing of the past on the road. We got to Adagbarasa safely and decided to return the next day after the funeral. That was the beginning of an experience that speaks more of us as a country and how our capacity to be shocked seemed dead.
Shortly after leaving Benin, we ran into a standstill. Moving at snail speed, we did not cover more than two or three kilometres in nearly three hours. Yes, nearly three hours. There was no security agent in sight and the policemen trying to clear the road were part of us and typical of such situation, immediately their vehicles were free to move, they abandoned others. It was as if we were not going to come out of the siege especially when those going to Benin told us that they've been in it since 11am and the time then was just after 3pm. It was a standstill on both sides and the only dominant thing from those who spoke about what caused it was a protest by luxury buses drivers and their articulated vehicles counterparts over the killing of one of them or his wife by armed robbers. Consequently, they decided to block both sides of the expressway and we learnt that they started the previous day, apparently after we passed the road.
By the time we got to Okada, movement was easier and freer, but those going to Benin were still stuck. Interestingly, regular travellers on the road in the bus were unperturbed as they regaled us with tales of regular occurrence of such incidents where they will be on the same spot for hours. How could one get used to this kind of trauma, I asked myself repeatedly. Where is our government? Which number do you call to report such emergency? I later heard that the Edo State police command actually negotiated with the drivers to move their vehicles from the road. Negotiating with people causing a total breakdown of law and order? Can we ever reclaim Nigeria from the clutches of anarchy?
My heart goes out to those who have to ply the Benin-Ore road regularly, but as for me, it will be a long while before I pass it again. Meanwhile, the government will do well by ensuring free flow of traffic on the expressway, as maintenance of law and order is part of its mandate too.
Copyright 2018 TheCable. Permission to use quotations from this article is granted subject to appropriate credit being given to www.thecable.ng as the source.