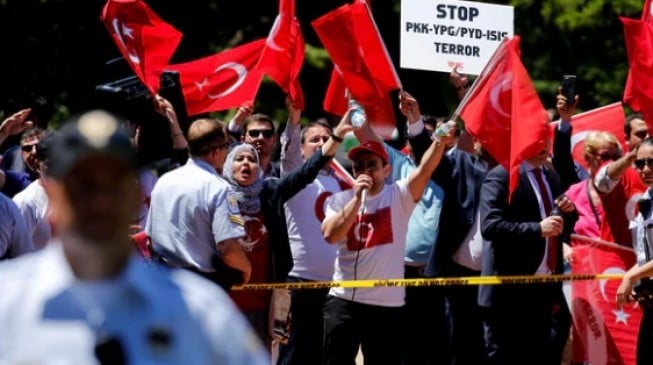 A video which surfaced on Thursday shows Turkey president, Recep Tayyip Erdoğan, looking on as his security team clashed with protesters in Washington DC.
The incident happened in front of the Turkish ambassador's residence.
The video emerged after US President Donald Trump had welcomed Erdogan to the White House and praised him as an ally in the battle against Islamic extremism in the middle-east.
The Voice of America's Turkish service shared the video on its Twitter account.
Amerika'nın Sesi Özel: #Erdoğan #Washington'daki olayların bitmesini aracında bekledi https://t.co/96IJVdVOpQ #amerikaninsesi pic.twitter.com/nh7nsyXwzL

— Amerika'nın Sesi (@VOATurkish) May 18, 2017
In the video, Erdogan is seen standing beside a black Mercedes sedan while his bodyguards in suit were beating up some of the protesters.
The demonstrators who displayed placards saying 'Erdogan supports ISIS' were calling on Trump not to welcome him in the US.
Meanwhile, US senator John McCain, has called for Turkey's ambassador to the US to be removed from the country following a brawl outside his Washington DC residence earlier this week.
He went on to call for a diplomatic response from the US and said the government should press charges against Turkish officials involved in the brawl.
Copyright 2018 TheCable. Permission to use quotations from this article is granted subject to appropriate credit being given to www.thecable.ng as the source.