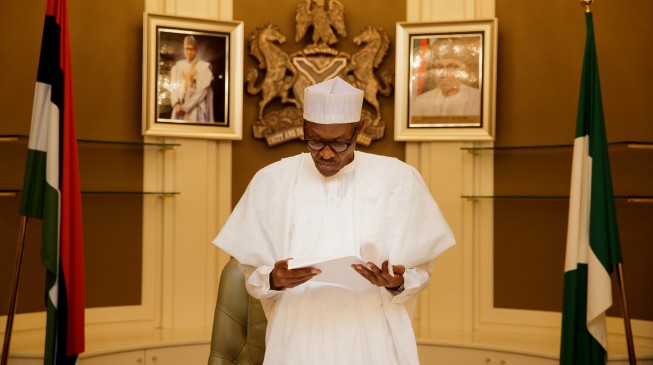 "Happy Valentine's day, my friend"
"You don't wish someone Happy Valentine's day with ordinary mouth, my friend"
"Are you a woman? The gifts are for women, not male friends."
"You see, yourself? You are a bush man just like one of my friends who got a text message from his girlfriend, and he started asking what is the meaning of bae and boo. The girl used those words and our friend was lost."
"Bae. Boo. I have no idea either."
"Of course, you are old school. You better stay away from young girls."
"I don't carry girls. I am a responsible man. So, I am not into this Valentine thing."
"What will I do with you, this man? Valentine's Day is not only for boys and girls. It is a day of love. You can show love to everyone around you. It is a day when you show that you care."
"This whole thing about Valentine's day is just a business idea. You know even schools collect money from their pupils to celebrate Valentine Day and the kids are asked to come to school, wear red, and bring gifts for any member of the opposite sex that they admire."
"Primary schools? "
"Yes."
"Children?"
"Yes. Those who profit from Valentine's Day are beginning to catch them young in order to grow a future market. Virtually every business outfit is into this madness. But if you ask me, I think every day should be Valentine's Day in Nigeria. We should love one another. We should learn to be each other's brother's keeper."
"Keep preaching. The only thing that bothers me about Valentine's Day is a certain report I read somewhere indicating that last year, February 14, one particular condom-making company recorded its highest sales worldwide on that particular day in Nigeria!"
"That is precisely the problem. It is all about sex, no longer love. I hear if some women don't get a gift or some form of special attention on Valentine Day, they would feel as if they are washed up. I once settled a quarrel between a friend and his wife, because he forgot it was Valentine's Day and he came home very late. The wife refused to talk to him for weeks."
"On a day like this, every woman will be monitoring her man."
"Well, may be because we have reduced the idea of love to nothing but sex and waywardness, and that is probably why they have had to ban Valentine's Day in Pakistan."
"Ban Valentine's Day?"
"Banned. The Islamabad High Court ruled this week that there should be no celebration of Valentine's Day in public. The Pakistani media has also been banned from reporting any Valentine Day activity."
"What kind of court of law is that? Of all important matters to worry about in Pakistan."
"Obviously the matter of Valentine's Day is very important in Pakistan because even the President of the country has declared that Valentine's Day is not a Muslim tradition, but a Western one."
"Oh I see. It is a Sharia thing."
"Not necessarily. What of the situation in Japan where a group of men, the Kakuhido or the Revolutionary Alliance of Men that Women Find Unattractive have staged a public protest calling on the Government of Japan to ban Valentine's Day."
"Are there some men that women find unattractive?"
"Apparently."
"What kind of men are those ones?"
"They obviously exist in Japan. And they claim that public smooching on Valentine's Day is a form of terrorism, oppressive love capitalism and they feel marginalized, completely discriminated against because women find them unattractive."
"They actually sound as if they will take the law into their hands. But definitely there are no such unattractive men in Nigeria. I have seen poor, ugly, impossible Nigerian men with some of the prettiest women around and you are forced to ask: what exactly did she see in him?"
"Nigerian men are better lovers than the Japanese. Even oyinbo women don't joke with our men. That was how one Kenyan athlete came here for the Lagos City Marathon last week and she didn't want to return to Kenya. She said she would remain here if she could find a Nigerian man to marry her because Nigerian men are wonderful."
"Oo-o-shey! Our brothers! They must have shown her some good, good loving…"
"But talking seriously, you know, I think love is all we need in this country. Our leaders should love the people and the people should love their leaders and we would be a much better country."
"I hear Baba sends his love."
"Which Baba?"
"Our Baba in London"
"I won't join you to comment on that subject. We are all human beings. We can have medical issues at any time."
"Who is talking about medical issues? What we know is that Baba is on working leave in London and he used the opportunity to do some medical tests"
"Working leave"
"I was in fact going to say that those tests should have been conducted in Nigeria here. It is sad if Nigerian doctors can't conduct ordinary tests."
"If you are President of Nigeria, you'd go and hand over yourself to Nigerian doctors, you will? The same doctors who are always complaining about allowances and threatening to go on strike. These same doctors, many of whom are card-carrying members of the opposition, MASSOB and Niger Delta Avengers. It's alright."
"Medical tourism is a threat to the Nigerian economy. We have good doctors here. Nigerian doctors are among the best in the world."
"I know somebody who wanted to buy Nigerian medical practice. Whatever it was they diagnosed after carrying out tests was completely wrong. When he eventually went to London, he was told he had been on wrong medication for three years! So when you become President, Governor or Senator, carry your body and give to a Nigerian doctor for trial and error diagnosis."
"But when will Baba return?"
"When the results of the tests are released"
"When?"
"I am not a doctor but I hear some tests could stay in the medical lab for up to three months"
"Wha-a-at?"
"Why are you screaming? It is a working leave. Anywhere the President is, that is where power is. After all, Baba spoke with Donald Trump yesterday and he is also likely to have a telephone conversation with South African President, Jacob Zuma. He is also constantly on the phone with the Acting President."
"Zuma. Zuma. Zuma. I hope Baba will remember to sympathise with President Zuma over the embarrassment he got at the parliament the other day when the red-jacket wearing members of the Democratic Alliance started calling him a thief. Baba should give him some tips about how to deal with rude and arrogant lawmakers."
"No. Baba should not meddle in South African affairs. He should talk to President Zuma about the continued attack on Nigerians living in South Africa. Some South Africans will just wake up one day and start attacking Nigerians, and they don't get arrested for doing so or punished. We must let South Africa know that Nigerian lives matter!"
"What I have even noticed is that those South Africans only attack Nigerian men. They don't attack Nigerian women."
"I have information on that."
"I am all ears"
"I hear our Nigerian brothers in South Africa are into South African women like ki'lode. And the South African women love them back like crazy, because you know your guys, when they want to impress a woman, they really go all out."
"Hmmm"
"You just look at it. Only a few days to Valentine's Day, some South African hoodlums started attacking Nigerian men and their businesses. I am surprised that the South African Ambassador to Nigeria has not yet been summoned, even the Foreign Affairs Ministry has not uttered a word. Is it because Baba is in London?"
"Well, well, well, I think the new oga on top is trying his best to be on top of everything."
"Who is that?"
"Acting President Pastor Professor Yemi Osinbajo, SAN"
"He is doing well"
"A child of the Most High. An erudite, loyal, hardworking…"
"Una don start oh. That is how you people will cause problems for the man. As far as I can see, he is focused on the assignment that he has been given and he is humble and hardworking. The Christian body in Nigeria and you, Yorubas should not distract him. Some Christians are already saying their time has come. And all of a sudden, some Yoruba Obas want to visit the Villa. I saw some Yoruba boys the other day, they were very busy weaving conspiracy theories and suddenly quoting the Constitution."
"What I know is that there is no way a man will ride a horse and his head will not shake."
"Just be careful how you shake your head."
"You don't have to worry about all that. You said the truth when you said the Acting President is doing well. In the last two weeks, the man has been working as if he does not know how to do anything else other than to work. Even primary school students in seven states are beginning to eat one hot meal a day, free of charge. About 12, 000 cooks have been employed, farmers are also involved."
"The hot meal per day should be extended to some households, street beggars and em…em. There must be a mechanism in place to make sure the teachers don't end up diverting the hot meal. Some teachers are so hungry, they'd take the food home to their families and deprive the children."
"What kind of teacher will do that?"
"I am telling you the truth"
"But there is another scheme that should cover the teachers. It is called the Social Intervention Programme (SIP)."
"That is for the poorest members of our society -N5, 000 per month. Teachers don't fall into that category."
"You are sure about that? You think if the Federal Government offers you N5, 000 every month, you won't take? With N5,000, you can buy recharge card."
"Look, the best thing to do is to just share the money from oyel every month. They can start with every Nigerian who has a bank account. Instead of state governments going to collect the money on our behalf every month, just put the thing directly into every Nigerian's bank account."
"That is not how to run a government."
"We have to start thinking out of the box. Look at the benefits. If we adopt that strategy, all Nigerians abroad will come home. There will be nothing for anybody to steal, because the cake will be shared equitably. Everybody gets a share of it."
"And the Nigerians who have no bank accounts?"
"You don't get it. They will all rush and open one. Oyel money, na im you dey take joke like that? In due course, we will have accurate census figures."
"You are beginning to sound like those Niger Delta people who gave James Ibori a heroic welcome party."
"Those ones? They were defending African culture."
"And what culture is that?"
"You better don't bother yourself about things you can't understand. You and I will be here one day when a certain James Onanefe Ibori will hold brooms with two hands and declare for the APC… Enjoy the rest of your day. Go home and make your bae happy."
Copyright 2018 TheCable. Permission to use quotations from this article is granted subject to appropriate credit being given to www.thecable.ng as the source.