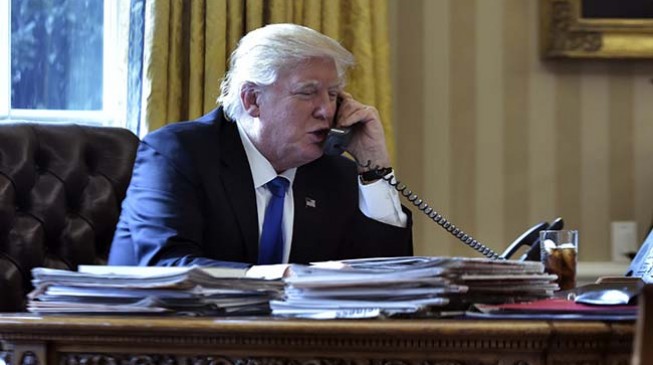 The White House has released the summarised details of Monday's phone call between US President Donald Trump and President Muhammadu Buhari.
The readout was published on the official website of the US government, whitehouse.gov, putting an end to speculations on the call which many Nigerian critics of Buhari claimed did not take place.
However, the readout was silent on the invitation of Buhari to Washington DC at a "mutually convenient" day.
Femi Adesina, presidential spokesman, had released the Nigerian version immediately after the call.
The Readout
President Donald J. Trump spoke this week with President Muhammadu Buhari of Nigeria to discuss the strong cooperation between the United States and Nigeria, including on shared security, economic, and governance priorities.  President Trump underscored the importance the United States places on its relationship with Nigeria, and he expressed interest in working with President Buhari to expand the strong partnership.  The leaders agreed to continue close coordination and cooperation in the fight against terrorism in Nigeria and worldwide.  President Trump expressed support for the sale of aircraft from the United States to support Nigeria's fight against Boko Haram.  President Trump thanked President Buhari for the leadership he has exercised in the region and emphasized the importance of a strong, secure, and prosperous Nigeria that continues to lead in the region and in international forums. 
The read of Trump's Call with President Jacob Zuma of South Africa was also published.
It read: "President Donald J. Trump spoke this week with President Jacob Zuma of South Africa to discuss ways to expand cooperation and trade between the United States and South Africa.  President Trump highlighted the strong bilateral trade ties between the two countries and expressed interest in identifying new, mutually beneficial opportunities for trade.  President Trump also suggested that the United States and South Africa do more to collaborate on shared security interests, including the fight against terrorism.  Both leaders agreed to continue dialogue on these priorities and find ways to deepen the bilateral partnership."
Copyright 2018 TheCable. Permission to use quotations from this article is granted subject to appropriate credit being given to www.thecable.ng as the source.