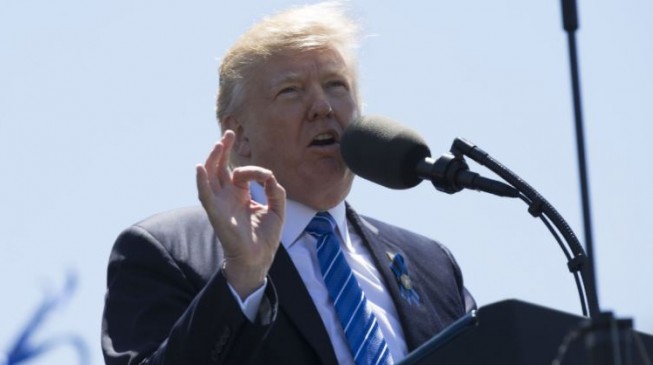 World leaders reacted with concern and anger to US President Donald Trump's recognition of Jerusalem as Israel's capital on Wednesday.
Israel is the only country celebrating the announcement that its American ally would be moving its embassy from Tel Aviv.
In his reaction, Palestinian President Mahmoud Abbas said: "These reprehensible measures constitute a deliberate undermining of all peace efforts.
Abbas also said the action represents "a declaration that the United States has withdrawn from playing the role it has played in the past decades in sponsoring the peace process".
A Saudi government spokesman said, "the government of the Kingdom of Saudi Arabia hopes that the US administration will reverse this action, and support the international will to enable the Palestinian people to regain their legitimate rights".
German Chancellor Angela Merkel, while reacting said, "the government does not support this stance because the status of Jerusalem is to be negotiated within the framework of a two-state solution".
The European Union foreign policy chief Federica Mogherini said the aspirations of both parties must be fulfilled and a way must be found through negotiations to resolve the status of Jerusalem as the future capital of both states.
According to British Prime Minister Theresa May, "we disagree with the US decision to move its embassy to Jerusalem and recognise Jerusalem as the Israeli capital before a final status agreement.
"We believe it is unhelpful in terms of prospects for peace in the region."
In a statement, Egyptian Foreign Ministry said: "Such unilateral decisions violate international legitimacy resolutions and will not change the legal status of the city of Jerusalem as being under occupation."
Also, President Joko Widodo of Indonesia called on the US to consider withdrawing the decision.
Widodo said: "Such unilateral recognition violates various resolutions of the UN Security Council of which the U.S. is a permanent member. It could also shake global stability."
Lebanese President Michel Aoun described the proclamation as "dangerous and threatening the credibility of the United States as a sponsor of the peace process in the region".
President Bashar al-Assad of Syria said "the future of Jerusalem is not determined by a state or a president, but by its history and the will and determination of the loyal people to the Palestinian cause".
António Guterres, the UN secretary-general, has said there was no alternative to the two-state solution to the lingering conflict between Israel and Palestinian.
The UN chief said Jerusalem was an issue that must be resolved through direct negotiations between the parties.
Copyright 2018 TheCable. All rights reserved. This material, and other digital content on this website, may not be reproduced, published, broadcast, rewritten or redistributed in whole or in part without prior express written permission from TheCable.